SCARLET will develop superconducting cables for several purposes. Onshore high-temperature superconducting (HTS) cables will connect land-based remote renewable energy generation sites to the grid, as well as being the link from the seaboard (for offshore installations) to the grid. This development is driven by the need of compact solutions with small footprints and limited visual impact.
Offshore HTS cables will serve as export cables, which bring the energy to the shore from offshore windfarms. Here HTS cables have the potential to significantly reduce the cost, which is particularly important as the cost of the export cable constitutes a large share of the total wind farm costs.
MgB2 cables in combination with liquid hydrogen (LH2) transport will connect renewable energy sources – either onshore or from the seaboard of offshore installations – with ports, ground transport and industries in need of both electricity and hydrogen. The application is strongly linked to the ongoing development of hydrogen as energy carrier and storage medium.
To ensure protection of the cable systems and the grid, a superconducting fault current limiter will be developed, which can be used in conjunction with the developed cables.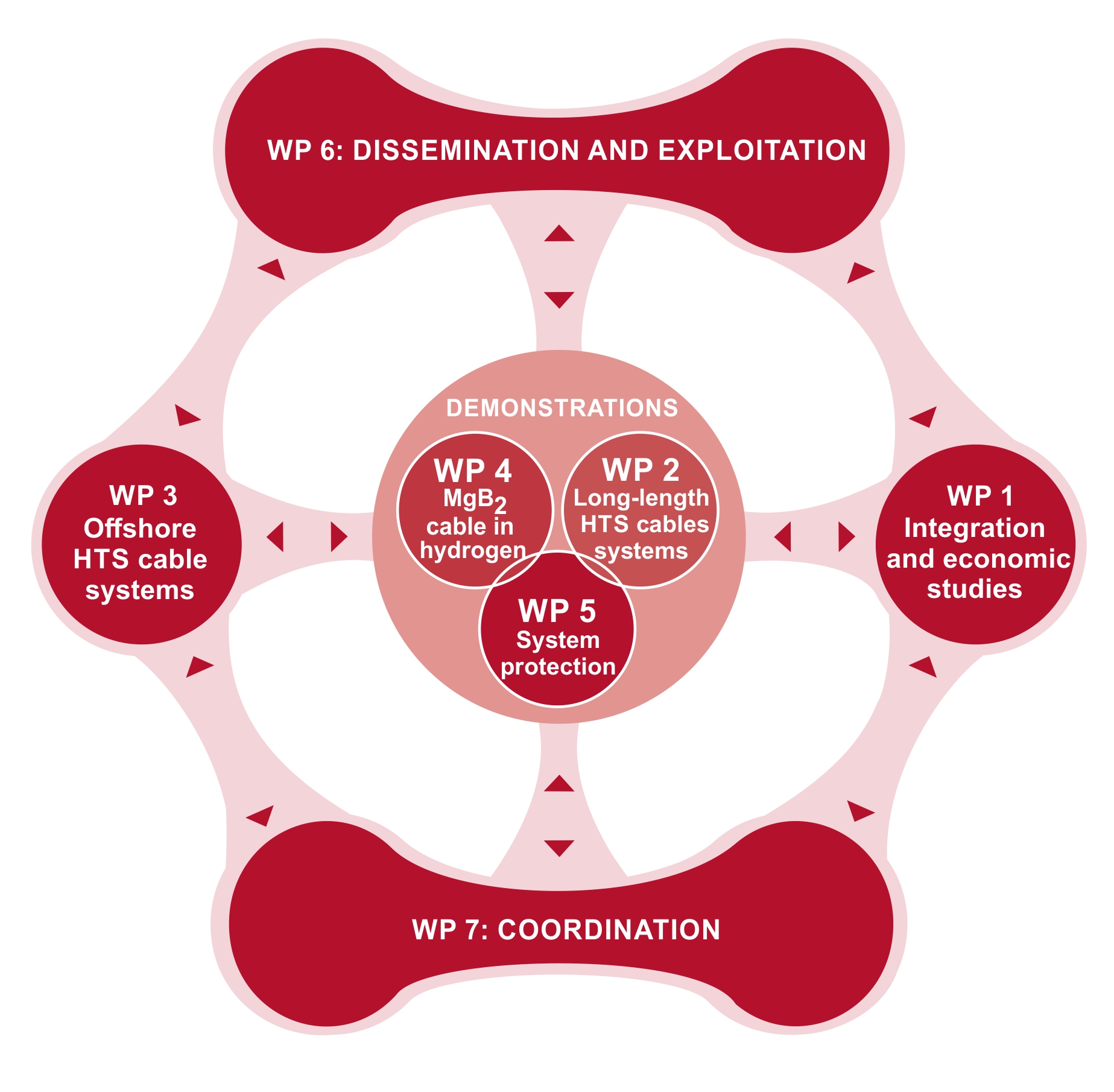 Project structure
SCARLET is a four-and-a-half-year project with the last half year entirely dedicated to the long-term test of the hydrogen-cooled MgB2 cable.
The project is organised in seven work packages as follows:
WP1: Integration and economic studies
WP2: Long-length HTS cable systems
WP3: Architectures of offshore superconducting cable systems
WP4: MgB2 cable in liquid hydrogen
WP5: System protection
WP6: Dissemination and exploitation
WP7: Coordination
The technological core of the project lies with the demonstrators and the research leading to them in WP2, WP4 and WP5, and the work on submarine cables in WP3. Economic evaluations and in-field integration studies are conducted in WP1, to determine the feasibility of the different cable types. WP6 is dedicated to the exchange with the target groups, including dissemination, exploitation, and standardisation, and WP7 is responsible for the overall project coordination.